There's nothing like enjoying a frosty popsicle on a blistering summer day! The great news is that popsicles are versatile, and by making them at home, you can adapt them to fit any season! However, life is too short to limit these sweet treats to just one season of the year. However, life is too short to limit these sweet treats to just one season of the year.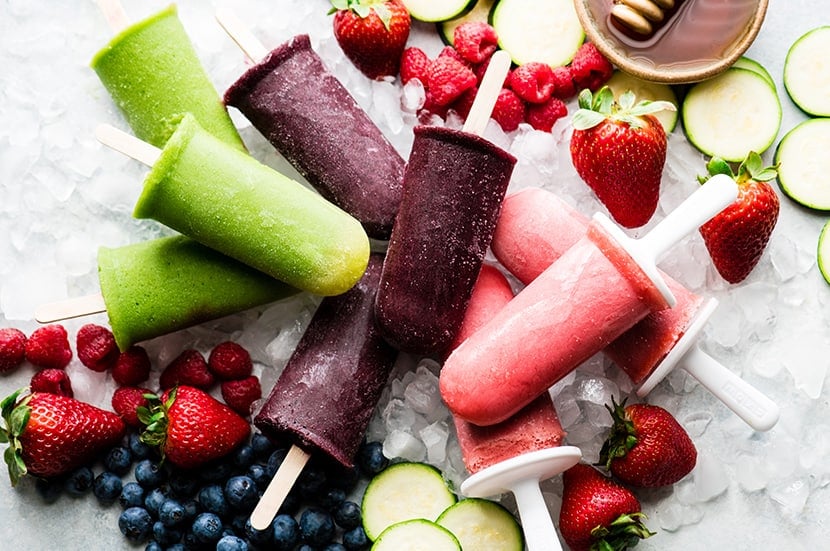 If you've never made homemade fruit popsicles, you may be surprised to know how easy they are to whip up. With just 5 minutes and a few ingredients, you'll be on your way to enjoying the best popsicles of your life.
Read on for our steps!
1. Choose Your Favorite Ingredients
Although you can always use what you have in the refrigerator, it's fun to use fruits in season or creative flavors. Each season brings exciting options for DIY popsicles.
Winter
Eggnog

flavored with rum, vanilla bean, and warm spices

Orange creamsicles
Creamy persimmon and coconut milk
Spring
Cherry with a touch of agave
Chocolate banana and avocado
Peaches and cream
Refreshing lemonade on a stick
Summer
Blackberry with a hint of mint
White wine sangria
Sweet watermelon
Strawberry Banana
Fall
Pumpkin pie
Apple cinnamon
Creamy coconut and fig
Pomegranate strawberry
If you want your popsicles to be pretty, you'll need to be careful about combining fruits from different color families, as this can lead to brown popsicles. They'll still taste great, but they may not look appealing in your Instagram stories!
2. Add Texture
Fruit popsicles taste great alone, but certain recipes, such as creamsicles, taste better when you add texture.
Yogurt: If you want to make your fruit pops creamy, go ahead and add some yogurt. Plain greek-style yogurt is our favorite choice, but you could always get creative with flavored yogurt. Plain greek-style yogurt is our favorite choice, but you could always get creative with flavored yogurt. An added benefit to yogurt is that most varieties contain a high amount of protein and are probiotics.
Coconut Milk: If you want an even heavier creamy texture, you may add coconut milk. The full-fat coconut milk will lead to thicker, creamier popsicles. It also adds a nice tropical flavor and pairs well with fruits such as mango or papaya.
3. Sweeten Your Popsicles
Some people prefer to add some additional sweetener to their popsicles, while others rely on the fruit's natural sugars.
Sweet Fruits: If you want a naturally sweet popsicle, try to incorporate fruits like bananas into your popsicles, which naturally have high sugar content.
Fruit Juices: If fruit alone isn't enough for your tastebuds, you can also add a splash of apple, orange, or other juices. However, we recommend leaning for juices that are not from concentrate.
Honey: Some popsicle recipes, especially those not fruit-based, are better when sweetened with pure honey. Of course, you could also use natural cane sugar, maple syrup, or agave.
Citrus: If you want to contrast your fruit flavors' sweetness, use lemon or lime juice. It will keep the flavor soft and balanced.
Vanilla: If you make a flavored dessert popsicle, like pumpkin pie or eggnog, vanilla extract makes a great addition! Moreover, vanilla yogurt adds creaminess and flavor at the same time!
4. Blend It All Up
Once you choose your flavors, you will need to combine them to get the right texture. Having the proper liquid ratio to fruit is essential when making homemade popsicles because this determines whether your popsicles are creamy or watery.
Once you've chosen your flavors and the ingredients, you'll need to throw everything into the blender until the mixture is nice and creamy. We recommend that you add the liquid ingredients to the blender, the sweetener, and finally the thicker ingredients like fruit. Adding the elements in this order will ensure that your popsicles turn out as smooth as possible and avoid chunks in the mixture.
5. Pour the Mixture into Molds
When your mixture is smooth, you can pour it into your popsicle molds. If you don't have molds, don't worry! It's possible to make homemade popsicles without them.
First, you'll need to place cups on a baking pan and pour the mixture into the cups. Next, place tin foil over the cups and make a small slit in the middle. Finally, slide popsicle sticks in the slits and freeze.
6. Freeze
You'll need to freeze your popsicles for at least 4-6 hours, depending on the ingredients you used. The best bet is to pop them in the freezer at night, and they'll surely be ready the next morning.
If you wonder why some ingredients take longer to freeze than others, the answer lies in science. When you increase a liquid's concentration of dissolved solids, it lowers the liquid's freezing point. Adding ingredients like sugar, salt, fruits, minerals, or proteins makes the popsicle take longer to freeze.
The water in a popsicle will freeze at 32°F, but the fruit juice needs a temperature well below that completely freeze. However, most people prefer that the fruit remains partially unfrozen because it melts quicker in the mouth and is easier to bite.
7. Release From Molds
Removing popsicles from their molds is easy! Place them under warm water for 30-60 seconds and pull. Then you can store them in the freezer for up to three months or eat them right away.
If you aren't ready to eat them just yet, then you'll need to know how to store your popsicles correctly. After removing them from the molds, place them on a baking sheet, and freeze them. Once the popsicles are completely frozen, could you place them in a freezer bag?
Enjoying Your Homemade Fruit Popsicles
With a few minutes and wholesome ingredients, you can make a delicious dessert your whole family will enjoy all year round. If you have children or are a messy eater yourself, cut a small slit into a cupcake liner and place it on the popsicle stick. This genius hack will help you avoid an unwanted juice drip that makes a mess.
Do you like making your own homemade fruit popsicles? Check out some of our other posts for more amazing tips and recipes.