The Dutch Ovens and the Braisers are beloved by homeowners and chefs because they are versatile and can slow-cook meals to perfection. While these iconic pieces of cookware share many similarities, the versatile Dutch Oven and the Braiser ultimately excel at different cooking techniques, helping you tackle a variety of recipes. "
Therefore, if you're looking to expand your culinary skills, it might be time to start digging into the world of Dutch ovens and braisers. The two cookware styles have unique features, pros, and cons that set them apart. So, what are they exactly? In this article, we'll break down the difference between Dutch ovens and braisers, so you can decide which one best fits your cooking style.
Let's get started:
Dutch Oven
What is a Dutch Oven?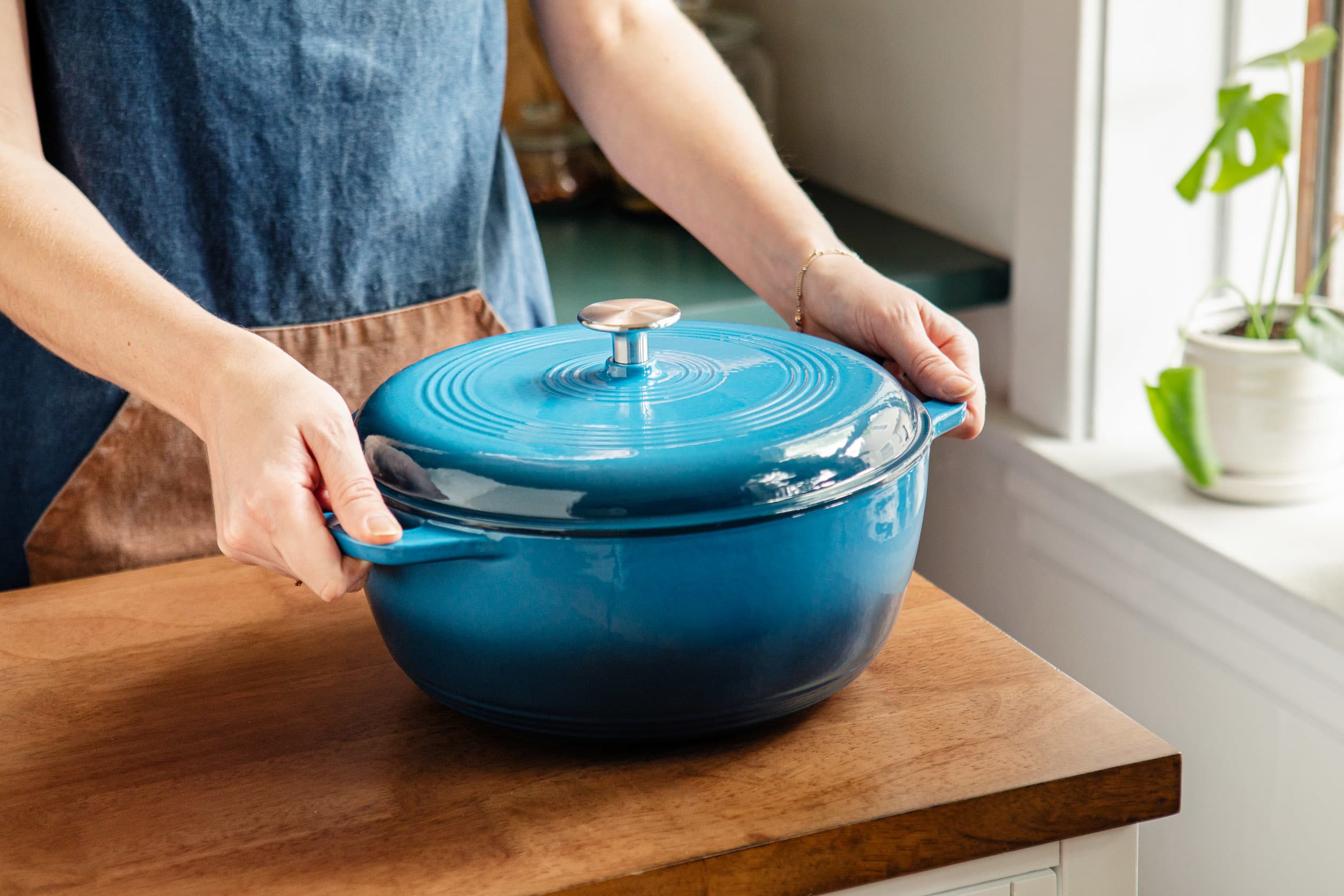 A Dutch oven refers to a thick-walled cooking pot featuring a tight-fitting lid. It is typically cast iron and can be used on the stovetop or range. Dutch ovens are excellent for braising, stewing, baking, boiling, and slow cooking, as they retain and distribute heat evenly. They're also great for baking bread, roasting vegetables, making casseroles, and simmering sauces.
Suitable Cooking Techniques for Dutch Ovens
Dutch oven cookware is known for these cooking techniques: braising, browning, simmering, sauteing, roasting, deep-frying, and even baking.
Braising is a cooking method involving browning meat or vegetables in a pan, then cooking them slowly in liquid over low heat. Braising can be done in a Dutch oven.
When you're browning meat in a Dutch oven, much of the surface area of the heart will be exposed to direct heat, which can lead to more even browning.
Simmering is often thought of as a low-temperature alternative to boiling.
If you're new to cooking, you might not know that the Dutch oven is perfect for sauteing.
A Dutch oven can get the job done when it comes to roasting.
People use Dutch ovens to get the perfect meal for deep-frying.
A Dutch oven can do the baking trick if you don't have a stone.
Dutch Oven Features
A Dutch oven is a large, heavy pot with vital features. These include:
Dutch ovens have thick walls, which helps them retain heat better. This is why they're often used for slow-cooking recipes that require long cooking times at low temperatures.
Dutch ovens have tight-fitting lids, which helps to create an even heat distribution while cooking.
A Dutch oven is perfect for braising because it has a self-basting cycle. The pot's lid fits snugly on top, trapping moisture and flavor. As the food cooks, the steam condenses on the cover and then drips back down onto the food, basting it in its juices. This results in tender, flavorful meat that is cooked evenly throughout.
Dutch ovens have sand-colored enamel inside, which helps distribute heat evenly. Braisers, however, often have stainless steel or aluminum construction. They don't retain warmth, so they're not ideal for long, slow cooking.
Available in several colors
Dutch ovens are commonly seen in either red or blue, but they are available in many colors. If you're looking for something different, you can find them in green and black.
Braiser
What is a Braiser?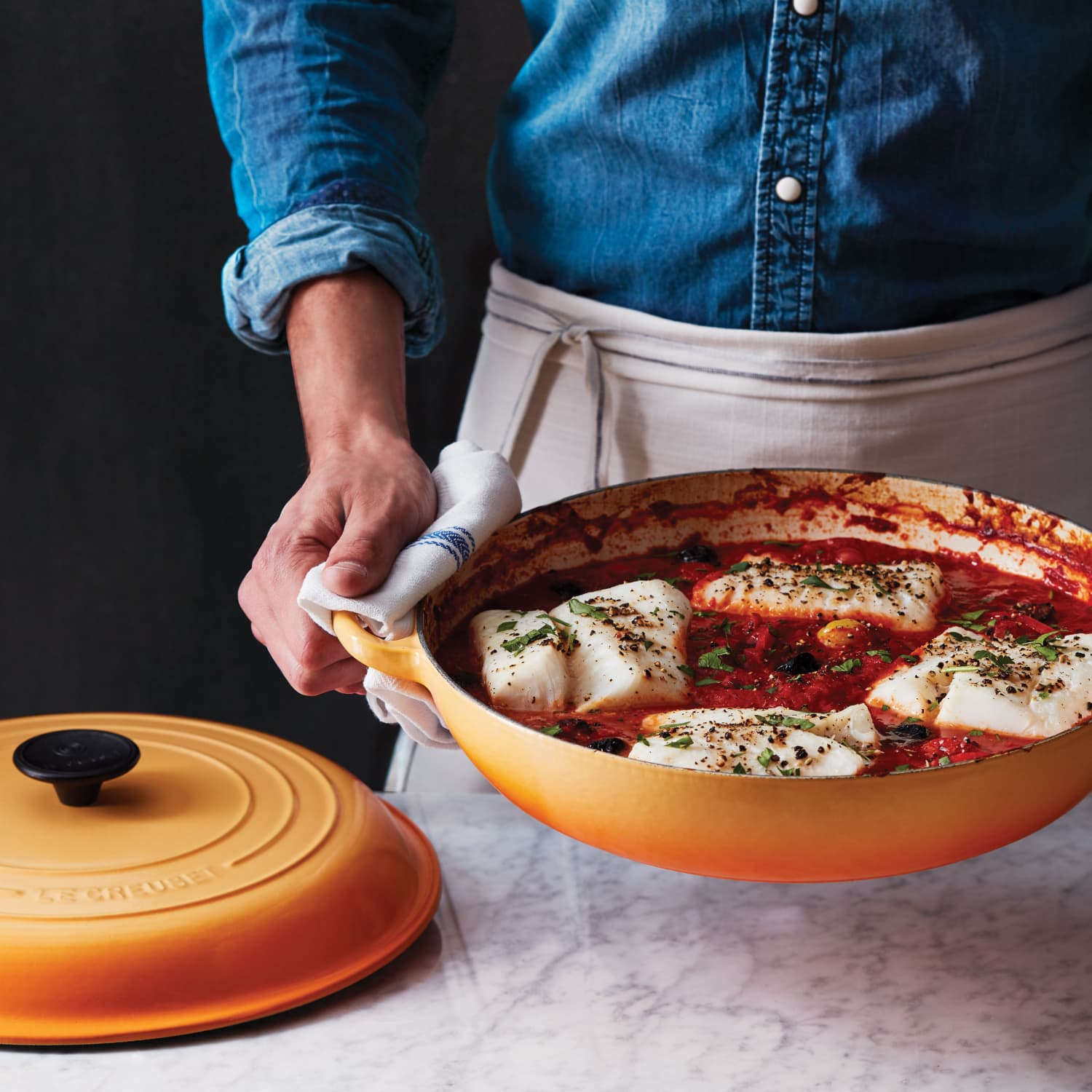 A braiser pan is also an enameled cast-iron pan or dutch oven but has more than one use. Similar to the size of a saucepan, the braiser was originally designed for searing meat over high heat before transferring it to the oven. When cooking something like short ribs, which require long periods of cooking at low temperatures while retaining moisture inside their meaty walls, this technique results in some of the most succulent meals you'll ever eat.
Braising is a combination cooking method using both dry heat and moist heat. Typically, braising is done by first browning the food in a pan with fat, then adding liquid and aromatics, and finally transferring everything to an oven, which cooks slowly until tender.
Suitable Cooking Techniques for a Braiser?
Braising, browning, poaching, and searing are all methods of cooking that can be performed using a braiser.
Braising is a cooking method where food is cooked slowly in liquid, usually resulting in tender, flavorful meat. Browning is a cooking method where food is cooked quickly over high heat, resulting in a crispy exterior.
On the other hand, poaching is a method of cooking where food is cooked gently in liquid, resulting in moist and flavorful meat.
Lastly, searing is a cooking method where food is cooked quickly over high heat, resulting in a caramelized exterior.
All four techniques can be used with a Dutch oven and a braiser. The main difference between these two cookware pieces is that the lids on dutch ovens are concave, while the braiser covers are convex.
Braiser Features
Braiser cookware features shallow depth, a wide base, domed lids, and tall walls; a braiser is a perfect vessel for braising. The low sides allow maximum surface area contact with the hot air circulating in the oven, which aids in browning and helps produce crispy bits called cracklings.
A wide base means enough room to cook several foods at once, overcrowding them, which means a shorter prep time. Tall walls keep liquids from splashing out onto your stovetop or table as you transfer them back and forth between the stovetop and oven. These walls also reduce evaporation loss due to steam rising into the lid rather than escaping through vents at the top of the pot. The shallow depth also evaporates excess moisture without fear of boiling over.
Conclusion
If you're still undecided about which one is right for you, consider what you'll be cooking most often. If you find yourself making a lot of stews, soups, and braised dishes, go for the Dutch oven. But if you prefer baked goods or roasted meats and vegetables, go for the braiser. Still, you can bake with Dutch Ovens. No matter what you choose, both the Dutch oven and the braiser will make your kitchen smell amazing. So don't stress over the decision; cook more with any cookware.