Chocolate Lush is one of those classic crowd-pleasing layered dessert recipes everyone seems to know and love. Similar to Grandma's Lemon Bars and Pineapple Dream Dessert, it's simple – a press-in crust layer of cookies, a pudding layer, and whipped cream topping.
Try variations of this no-bake dessert by changing up the flavor of the pudding and using different types of crusts. This simple recipe feeds a crowd and is great for church potlucks, family gatherings, or holidays.
Butterfinger Lush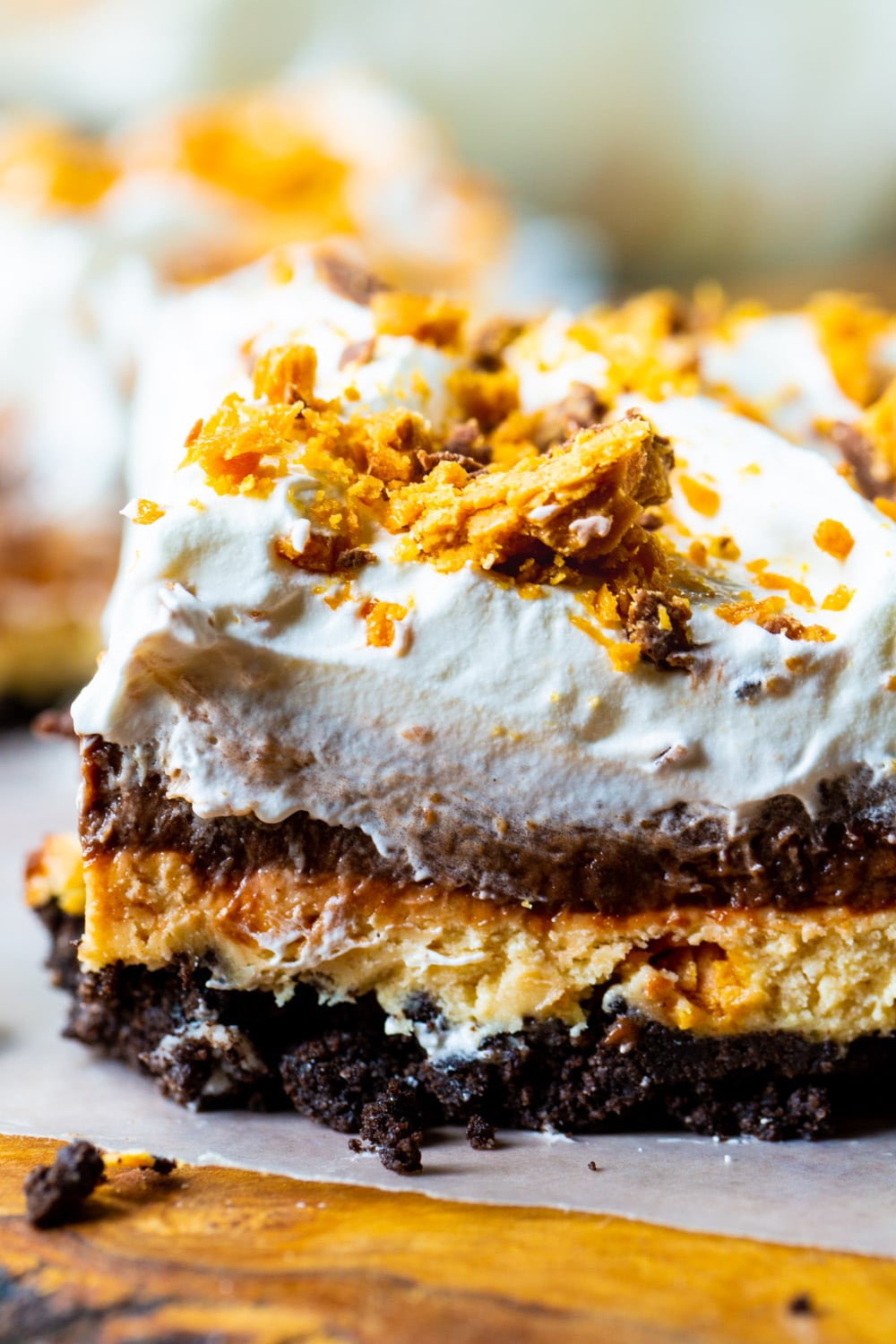 If you are a fan of Butterfinger candy bars, you will love this easy-bake dessert recipe! Layers of Oreo cookie crust, creamy peanut butter cream cheese, chocolate pudding, and sweet whipped topping make this rich and decadent dessert a crowd-pleaser. This no-bake dessert is perfect for summer when you want something delicious but don't want to heat your kitchen. It is a great dessert to serve at potlucks and get-togethers with family and friends!
This no-bake dessert is easy to make and only requires a few ingredients readily available in the grocery store. It is also a quick and easy dessert to transport. It can be made and refrigerated before you are ready to serve it. It can even be frozen and pulled out about 15 minutes before you can do it to thaw slightly. I love helping this dessert with a chocolate or caramel sauce drizzle. It adds just a bit of extra sweetness to the already sweet dessert.
You will start with a layer of Oreo cookie crust to make this dessert. I used a food processor to crush the Oreo cookies and the melted butter, but you could also easily mash the cookies in a bowl with a fork or by hand. Then, spread the cookie crumbs evenly in the bottom of a 9-inch baking dish.
In a large bowl, beat the cream cheese until smooth. Then, gradually add the confectioners' sugar and beat until fluffy. Mix in the peanut butter until well combined, and fold in one cup of the whipped topping. Stir in crushed Butterfinger candies until well mixed. Spread the peanut butter mixture evenly over the Oreo crust and top with the remaining whipped topping and crushed Butterfinger candies. Cover and refrigerate until ready to serve.
This dessert is rich, and a small piece goes a long way. It is best served chilled straight from the refrigerator. Leftovers will be kept in the fridge covered for up to five days.
Chocolate Lush Cake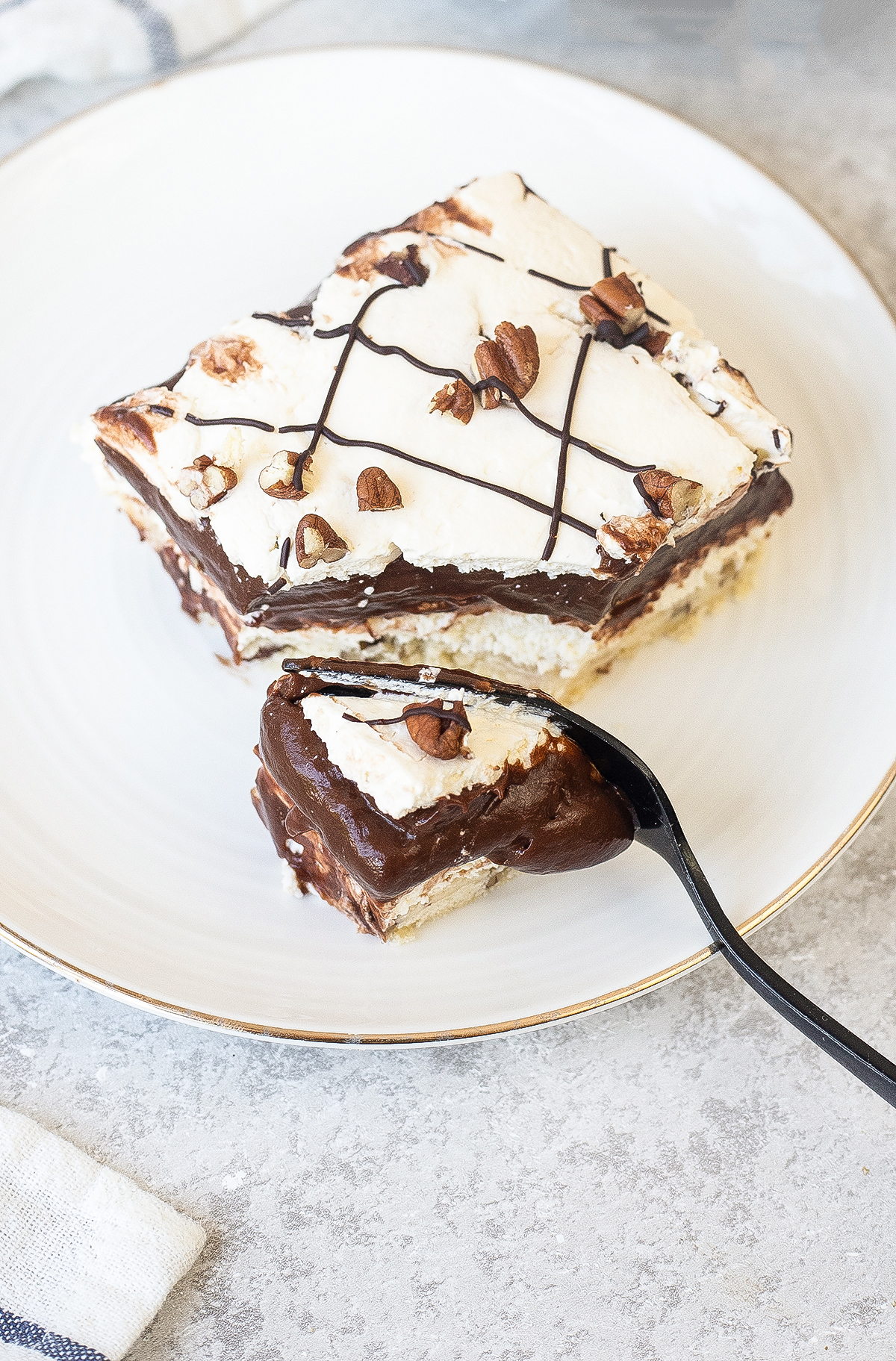 Chocolate Lush is a rich and creamy dessert with layers of chocolate pudding, cream cheese, and Cool Whip. It is a no-bake dessert that can be prepared ahead of time and refrigerated to set. It is great for potlucks, parties, or any special occasion. The layers will thicken and firm up in the fridge, so leaving enough time for this is important. The dessert will also soften if left out at room temperature, so serving the lush straight from the fridge is best.
This recipe is easy to follow and requires minimal ingredients. It makes a large pan of dessert that is perfect for sharing. It can be made beforehand and kept in the refrigerator for several days. The dessert can be garnished with mini chocolate chips or grated chocolate before serving. It can also be made into a chocolate icebox cake by freezing the dessert for an hour or two before serving.
To make this delicious dessert, start by preparing the crust. Place the whole Oreo cookies into a food processor or chopper and pulse until they have fine crumbs. Add the melted butter and mix well. Press the crumbs into the bottom of a 9×13 pan. Chill the crust while you prepare the other ingredients.
In a mixing bowl, beat the cream cheese until it is light and fluffy. Add powdered sugar and vanilla extract and beat again until smooth. Fold in one container of Cool Whip. Add two tablespoons of soft peanut butter to the cream cheese layer to make this luscious dessert even more chocolaty.
Spread the cream cheese layer evenly over the Oreo cookie crust. Next, spread 8 ounces of the chocolate pudding over the cream cheese layer. Top with the last 8 ounces of Cool Whip. Garnish with mini chocolate chips, chocolate shavings, or chopped Oreo cookies before serving.
This luscious chocolate dessert is perfect for parties, potlucks, or family gatherings. It is a rich, chocolatey treat that will please anyone with a sweet tooth. The no-bake dessert can be kept in the refrigerator for several days and will keep its shape when sliced. It is a good idea to leave the dish in the fridge until just before serving to cut it into clean slices.
Peanut Butter Oreo Lush
This is another rich, creamy no, no-bake dessert that's a must-have for any chocolate and peanut butter lover. It has all the classic layers of a lush: an Oreo cookie crust layer, a creamy peanut butter cheesecake layer, and a chocolate pudding layer. It's topped off with mini Reese's peanut butter cups anda peanut butter drizzle for an extra sweetness. This dessert feeds a crowd and is easy to make; it's perfect for parties and holiday gatherings!
Combine crushed Oreo cookies with melted butter inside a mixing bowl and stir well to make the crust. Press the crust into a 9×13 baking pan and set it aside while you prepare the rest of the ingredients.
The cream cheese layer is made by beating softened cream cheese with powdered sugar and peanut butter until smooth. This step must be done in advance to make the cream cheese nice and fluffy. Cool Whip is then added and beat until incorporated. This step must also be completed in advance to make the Cool Whip soft and spreadable.
Next comes the chocolaty pudding mix. Combine the instant pudding packets with cold milk and whisk until smooth. This step should be completed in advance; let the pudding mixture sit while you prepare the other layers.
The peanut butter cheesecake layer combines softened cream cheese and peanut butter spread over the chilled chocolate pudding layer. It is then topped with another layer of chocolate pudding and finally with the whipped topping applied on top. This is a must-try dessert for anyone who loves Butterfinger candy!
The chocolate drizzle is a mixture of melted peanut butter and chocolate chips. It is spread on the top of the dessert just before serving and can be topped with any garnishes you like. This beautiful and delicious dessert will impress your guests! Leftovers will stay in the fridge for 4-5 days.
Chocolate Lush with Shortbread Crust
This classic chocolate lush dessert is the perfect crowd-pleasing treat. Chocolate pudding, cream cheese, and whipped topping are layered over a pecan shortbread crust to create this delicious no-bake dessert. If you're looking for a crowd-pleasing recipe that is easy to make, this is the perfect dessert. It's a no-bake dessert that takes just minutes to put together, and then it's ready to be served!
To begin making the dessert, you'll need to mix the crust layer. This is caused by combining flour, pecans, and melted butter. Then, press the mixture evenly into a 913″ baking pan. Next, set aside the crust to cool while you prepare the other layers.
The first creamy layer is made by mixing softened cream cheese with powdered sugar and Cool Whip. Add some melted butter if you want to make the dessert more decadent! Then, spread the cream cheese layer over the cooled crust.
For the second creamy layer, you'll need to whisk together some chocolate pudding and milk until it thickens. Then, spread the chocolate pudding evenly over the cream cheese layer. For the final whipped cream layer, you must beat some heavy whipping cream with powdered sugar until stiff peaks form. Spread the whipped cream over the chocolate pudding layer.
Top the dessert with some mini chocolate chips and chocolate shavings to finish it. Then, cover and refrigerate it until serving. This dessert can be made ahead and kept in the fridge for a few days before serving, but it's best to help it the day you've prepared it so the crust doesn't get too hard.
This dessert is a must-try for any chocolate lover! It's a no-bake dessert that is so simple to put together and perfect to serve at a party. It's also a great dessert for a special occasion, like a birthday or an anniversary! The whole family is sure to love this dessert!