Vegetarianism has become increasingly popular in the United Kingdom in recent years due to several factors, including increasing awareness of the environmental impact of meat production, concerns over animal welfare, and health benefits associated with plant-based diets.
In response to the growing demand for meat-free options, many restaurants and food manufacturers in the UK now offer a delicious range of vegetarian options, making it easier for people to follow a vegetarian diet.
Chicken is a staple in many UK households due to its versatility and affordability. It is part of many delicious home-cooked dishes, such as roasted chicken and chicken pie. Choosing a meat-free diet shouldn't mean missing out on comforting chicken favorites, so we've compiled a list of four vegetarian alternatives.
Vegetarian Katsu Curry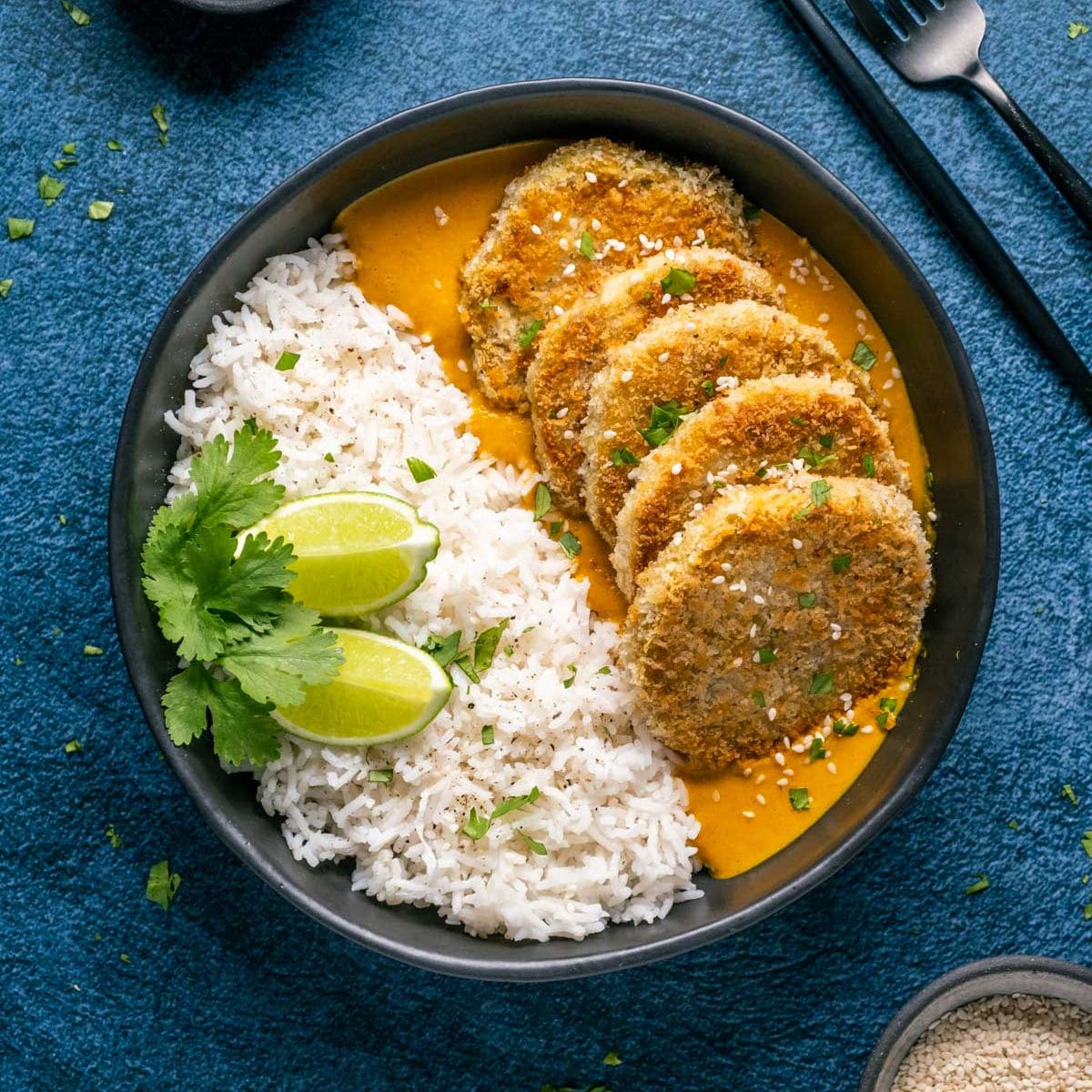 Katsu translates as "cutlet" and was invented in the late 19th century by a Tokyo restaurant that wanted to offer a European-style meat cutlet. Katsu curry can now be found everywhere, from street food vendors to restaurants worldwide. This warming dish is the epitome of Japanese comfort food.
Vegetarian katsu curry substitutes the traditional breaded and fried meat with a cutlet made with a filling of vegetables like aubergine, carrots, or mushrooms. The cutlet is breaded with panko breadcrumbs, fried until golden and crispy, then drenched with curry sauce over rice. This delicious dish is a tasty and satisfying alternative to the popular pork or chicken version.
Cheesy Leek & Potato Pie
Pies are a staple in British cuisine, popular as a savory and sweet dish. Some traditional British delicious pie favorites include steak and ale pie, shepherd's pie, and chicken and mushroom pie, often made with a flaky pastry crust filled with meat and vegetables.
Cheesy leek and potato pie is a comforting vegetarian pie made with a pastry crust filled with leeks, potatoes, cheese, and seasonings. Cook leeks, butter, and herbs in a pan while pre-boiling potatoes, then combine both with cheese for the filling. Roll out shortcrust or puff pastry for the casing, brush the pie with egg, then bake until golden. Cut into slices, serve with beans or greens, and enjoy!
Vegetable Fajitas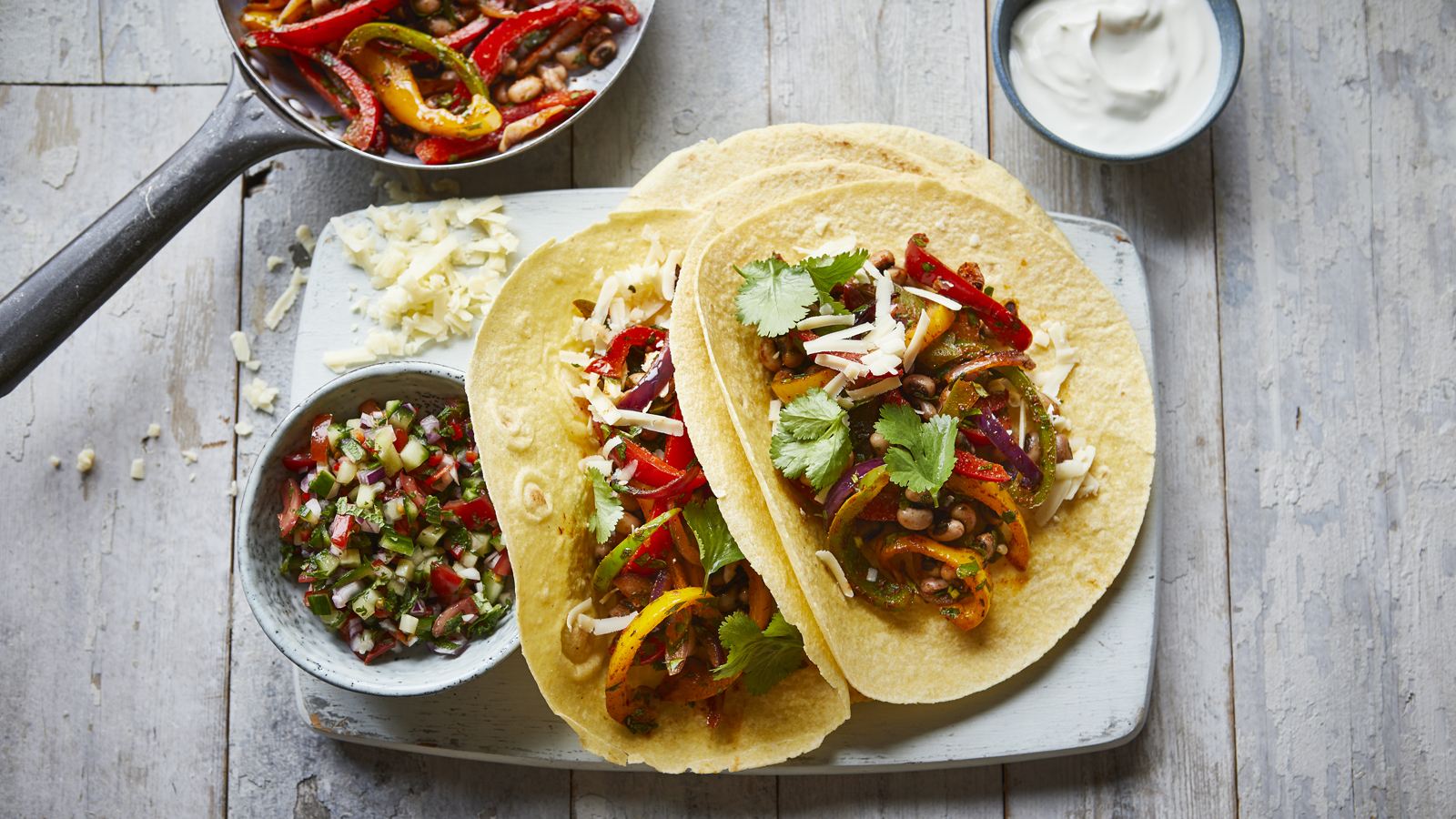 Fajitas have become increasingly favored in recent years due to the UK's rise in popularity of Tex-Mex cuisine. Fajitas are known for their bold flavors and are often served with various sides, such as rice, beans, and guacamole. These tasty wraps are widely available in restaurants, cafes, and fast food chains and are often served as a main course or a light meal. They have also become a go-to quick dinner thanks to an abundance of premade seasoning blends.
Many vegetarian variations of fajitas are available, using ingredients such as mushrooms, vegetables, or tofu. A popular recipe for veggie fajitas is sauteed sweet peppers and onions seasoned with cumin, paprika, and chili powder served in a flour or corn tortilla with toppings of cheese, salsa, guacamole, and sour cream.
Portobello Mushroom Burger
BBQ culture is essential to British summertime; nothing beats warm weather, great company, uplifting music, and the aroma of your favorite foods grilling over hot coals. The traditional British BBQ menu often includes classic dishes such as grilled burgers, sausages, and chicken and vegetarian options like grilled vegetables and halloumi cheese. In recent years, there has been a trend towards healthier eating, and many people are incorporating more plant-based options, like portobello mushrooms and tofu, into their BBQ menus.
Portobello mushrooms have a meaty texture and a rich, earthy flavor that compliments many sauces and spices. They can be grilled or roasted, making them a great alternative to a chicken. The mushrooms are typically marinated in spices and grilled or baked for portobello burgers until tender. Juicy, then served on a bun with toppings like lettuce, tomato, cheese, mayo, or mustard. The texture and flavor of the mushrooms make for a satisfying meat alternative and offer a healthier option for those looking to reduce their meat consumption.
In recent years, concerns about animal welfare and environmental impact have led to increased demand for free-range and organic chicken and alternative protein sources. Above are just a few vegetarian alternatives to chicken and plenty more ways to substitute the meat in your favorite dishes.
Some great plant-based ingredients to experiment with to substitute chicken in recipes include:
Tofu: A versatile soy-based product that can be seasoned and cooked in many ways to mimic the texture of chicken.
Tempeh: Made from fermented soybeans, it has a nutty flavor and a firm texture that can be sliced or crumbled.
Lentils: Used in dishes like soups, stews, curries, and salads.
Chickpeas can be mashed or roasted and used as a base for chana masala or falafel dishes.
Cauliflower: Its texture can be similar to roasted chicken or fried chicken.